Hello everyone!  My name is Andy Benditt, one of the Community Managers for Funcom.
Over the past few years, the Secret World Legends community has astounded and humbled us with their dedication and love poured into events and gatherings, particularly for Extra Life's Game Day event.  Last year, Secret Worlders like you raised over $17,000 for the Children's Miracle Network Hospitals through Extra Life.  This year, we'd like to once again support our community in their efforts with a new 2018 Extra Life in-game t-shirt, plus something a little newer: A t-shirt dispenser item that allows you to give the 2018 t-shirt directly to your friends ingame!
---
What is Extra Life?
Extra Life is an online grassroots movement that aims to unite gamers across the world to build awareness, support, and resources for local Children's Miracle Network Hospitals.  While they accept the support of donors year-round, Extra Life's 24-hour fundraising and gaming marathon known as "Game Day" is the main event.  You can learn more about the organization HERE.
Even if you are not able to give this coming weekend, fear not: donations are accepted until December 31st.
How can I participate?
All Secret World Legends players who are leading Extra Life teams can contact me directly through Twitter, Discord, or you can contact our general social media accounts on Facebook, Twitter, and Email to list your Extra Life Team and have it displayed here.  Those interested in joining an SWL Community Team may do so by contacting the leaders of the groups displayed on this page.  If you are an individual or team that wants to be displayed on this page, please contact me through the above links and provide:
Your ingame name
Your Extra Life team or player page
A link to your Stream channel
All registered SWL-playing participants in this year's Game Day receive a special in-game t-shirt.  Use the hashtag #ExtraLifeSWL and we'll  help you spread awareness about your stream.  We'll try to host your Twitch channels throughout the day and maybe even hop on from time to time to say hello 🙂
I can't stream anything Saturday–how can I donate?
It's really simple!  All you need to do is pick a team or individual from below and then click the big green "Donate" button on the page.  If donating to a team, please choose a specific team member to donate to so the team can get credit for the contribution! If you're donating to an individual, just go to their page from the link and then press that Donate button!
If you donate to an Extra Life fundraiser and play Secret World Legends, but don't have a stream or Extra Life page of your own, the fundraiser may be able to get you a t-shirt with fancy new T-shirt Cannons, provided to as many of the Team Leads and solo runners as I've been able to get to.  Players with the t-shirt cannon can target a friendly player and just use the cannon, granting their friendly target a 2018 T-shirt.
This page will be updated with more participants as they're provided.  Here are your teams:
---
TEAMS (Click banners to go to Team page)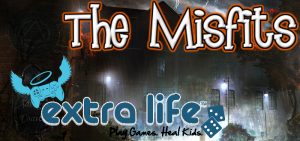 ---
INDIVIDUALS
You don't have to be a part of a team in order to support Extra Life! It's dangerous to go alone, but if you're a solo act then contact me directly to be listed here as well.